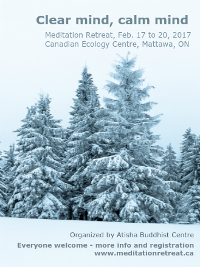 Our New Year begins with our popular Tuesday night class, Exploring the Mind with Meditation with Bill Chapman on Tuesday, Jan. 3, 7pm.
Our Wednesday daytime class, Simply Meditate, is led by a wonderful teacher, Buddhist nun Kelsang Garma, Wed. Jan. 4, 10am
On Thursday nights we'll begin a new introductory class, How to transform your life with meditation based on the new book by Geshe Kelsang Gyatso, Jan.5, 7pm, with Resident Teacher Tom Sepp.
Our enjoyable Sunday Meditations for World Peace will give a calm beginning to your Sunday. These sessions begin again on Jan. 8th, 10am.
Our annual winter meditation retreat will be held at the Canadian Ecology Centre from Feb. 17th to 20th. Find out more…
Everyone welcome to all events – looking forward to seeing you!
Best wishes for the New Year.
Tom Sepp
Resident Teacher
Atisha Buddhist Centre
www.meditateinthebeaches.org
tom.sepp@gmail.com
416 504 7407