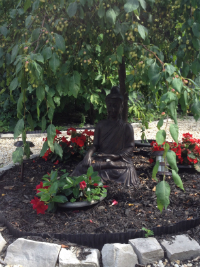 Often we wonder why our meditation practice isn't working as well as it could. We experience obstacles, distractions and many other difficulties in engaging fully with our meditation practice.
On Saturday Sept. 17th and Sept. 24th, we'll explore how to overcome these problems, mainly through the preliminary practices of going for refuge, generating bodhichitta, purification and mandala offerings.
If we want to our meditation practice to succeed, just like in gardening, we need to prepare the ground, remove rocks and apply fertilizer and water. At these two Saturday workshops, you'll gain practical experience in creating optimal conditions for our meditation practice.
In addition, the two Saturday workshops are excellent preparation for the International Kadampa Fall Festival which will be held Oct. 7 to 13 in Toronto.
The workshop will be based on "Joyful Path of Good Fortune," "Prayers for Meditation," by Geshe Kelsang Gyatso and teachings from the Summer Festival 2016 held in Cumbria, England.
Everyone welcome to attend – beginners and experienced meditators alike.
Instructor: Tom Sepp, Resident Teacher, Atisha Buddhist Centre
Place: Atisha Buddhist Centre, 1823 Gerrard Street East, Toronto, ON M4L 2B5
Time: Saturday June 18th, 2016, 9:00am to 1pm
Cost: $25 per Saturday (no charge for FP, TTP students, and Atisha Buddhist Centre members), includes light vegetarian snacks