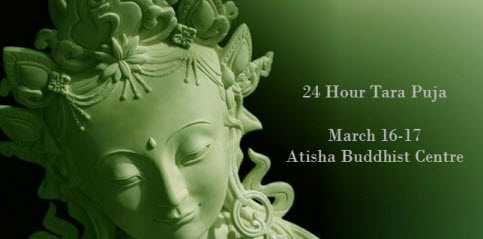 Tara is the female Buddha of swift compassionate action. In this powerful and much loved retreat practice we will engage in the chanted meditation (puja) of Mother Tara for one hour, every four hours for a period of twenty-four hours.
Everyone is welcome. No experience is necessary. You are welcome to bring an offering of flowers, candles, or vegetarian food for the Tara shrine if you would like.
You may drop in for an individual session, but it is even more powerful to come to attend them all!
Camp out overnight in the meditation room (bring your own sleeping bag/mat).
Schedule:
Friday 5.30 – 6:00pm Introduction to Buddha Tara with Tom Sepp
Tara Chanting Sessions:
Friday 6-7pm, 10-11pm
Saturday 2-3am, 6-7am, 10-11am, and 2-3pm.