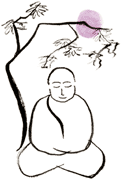 Our new program and classes begin this Sunday Sept. 3, with Meditations for World Peace Give yourself a calm start to your Sunday.
Our popular Tuesday night class, Exploring the Mind with Meditation starts on Sept. 5th, 7pm, with Ralph Santer.
The Wednesday daytime class, Simply Meditate, is led by a wonderful teacher, Buddhist nun Kelsang Garma, starting Wed. Sept. 6, 10am
On Wednesday evening's Foundation Program, we're starting a new book, New Heart of Wisdom, a commentary to the renowned Heart Sutra. If you're curious about the Foundation Program, now would be an ideal time to join the class. Please join us for the class Open House on Wed. Sept. 6 to get an overview of the program and see if the Foundation Program is for you.
On Thursday nights Sept. 7, 7pm, both beginners and more experienced meditators are are welcome to our Introduction to Meditation with Resident Teacher Tom Sepp.
On Saturday Sept. 9 we'll have our first Saturday workshop: Keeping a happy mind all day, from 9am to 1pm. We'll explore how meditation practise helps us keep positive throughout the day, even in difficult ciricumstances.
Everyone welcome to all events – looking forward to seeing you!
Tom Sepp
Resident Teacher
Atisha Buddhist Centre
www.meditateinthebeaches.org
tom.sepp@gmail.com
416 504 7407