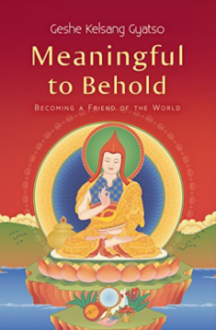 Everyone is welcome to attend the first class of our new Foundation Program course of study.
Everyone welcome – even if you're just curious.
The Foundation Program at Atisha Buddhist Centre provides a systematic presentation of particular subjects of Mahayana Buddhism to enable practitioners to deepen their knowledge and experience of Buddhism. The Program comprises of five subjects based on Buddha's Sutra teachings and the corresponding commentaries by Geshe Kelsang Gyatso.
On Feb. 5th, we'll begin a new book, Meaningful to Behold, Geshe Kelsang Gyatso's commentary to the classic Buddhist poem Bodhisattva's Way of Life by Shantideva.
Each week, you will study a small section of the book, internalize the main points and outline, come prepared to meditate on a key part of the reading, and receive the transmission of the text. You'll have an opportunity to work in pairs, ask questions and discuss the material. We also have a break, with time for tea and snacks.
You'll get a deeper understanding of this Buddhist classic and find practical strategies to incorporate into your daily activities. Find out more…